About GolfBC
Featured Offer
Year-End Tournaments are Back
At Nicklaus North and Furry Creek!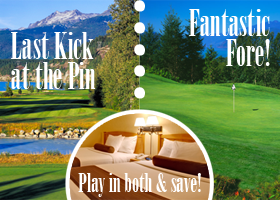 More Details
GolfBC Media and Press Room
Welcome, and Thank You for your interest in the GolfBC Group - owners and operators of twelve golf courses throughout British Columbia and Hawaii and the Crystal Lodge in Whistler Village. To read about what's new at GolfBC, scroll down to "News", a listing of our Press Releases.
News
08-JUL-2016
The Crystal Lodge & Suites (member GolfBC Group) is pleased to announce the Sea to Sky Golf Getaway Contest! Every year the Crystal Lodge & Suites partners with Furry Creek Golf & Country Club and Nicklaus North Golf Course to provide guests with a spectacular golfing adventure package. Golfing in the Sea to Sky corridor is a breathtaking experience with stunning scenery of the mountains, Pacific Ocean, lakes, and wildlife. "This contest is a great chance for our loyal fans and guests to win a free trip ...
29-JUN-2016
The top junior golfers in British Columbia will compete in Cobble Hill, B.C. from July 5-8 at the Arbutus Ridge Golf Club. The BC Junior Boys' Championship is open to 156 amateur males that qualify for the event and are aged 18 and under. "We are thrilled to be hosting this prestigious event at the Arbutus Ridge Golf Club," said Bryan Outram, Manager of Communications for British Columbia Golf. "The past winners of this event are impressive and we expect that this will be another display of inspiring ...
04-FEB-2016
GolfBC Championship coming to Kelowna in 2016 Gallagher's Canyon Golf and Country Club to host new Mackenzie Tour event The Mackenzie Tour – PGA TOUR Canada and GolfBC announced today a new official event for 2016, the GolfBC Championship, which will focus on making a positive charitable impact in the Kelowna area. The inaugural event will take place June 6-12, 2016 at Gallagher's Canyon Golf and Country Club in Kelowna. GolfBC, which owns and operates a collection of world-class courses throughout British ...
11-AUG-2015
The Crystal Lodge & Suites and the Burrard Group announced today the opening of their new restaurant, Basalt. Located on the Village Stroll, Basalt will feature European-style offerings of cured meats and cheeses, an international selection of wines, and a gourmet, artisanal plated menu. The restaurant contains 65 seats inside, and a 40 seat revamped four-season patio complete with a beautiful fire pit. "Taking on this premium location on the village stroll is such a privilege, and delivering a ...
15-JUL-2015
Richmond, B.C. (PGA of BC) – On July 20, 2015, 18 teams will tee off at Olympic View Golf Club in Victoria, B.C. at the 2015 Jack McLaughlin Memorial PGA of BC Pro-Junior Championship. Each team features a PGA of BC professional, along with three junior members from their respective facility. The 2015 field consists of teams from across the province, including former champions Seymour Golf & Country Club (2001, 2012), Mayfair Lakes Golf & Country Club (2002, 2006), The Vancouver Golf Club (2010), The ...