Featured Offer
2016 Game Packs at Gallagher's Canyon & The Pinnacle
Pre-purchase 10 or more rounds and SAVE! Limited time offer: buy between Jan 18 - Feb 29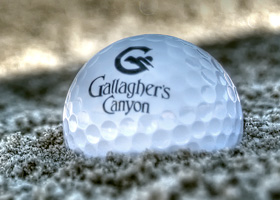 More Details
Welcome to Gallagher's Canyon Golf & Country Club

Golfing in Kelowna at Gallagher's Canyon
***Gallagher's Canyon is now CLOSED for the 2015 season, and will re-open mid-March 2016.***
Rated as one of the best golf courses in the country, Gallagher's Canyon is a spectacular par 72, 18-hole championship golf course full of challenging fairways, well-protected greens and awe-inspiring vistas. Throughout the course, you'll marvel at the scenery around you as you play through tall groves of ponderosa pine and along the very edge of the picturesque canyon. Just minutes from downtown Kelowna and Lake Okanagan, the warm arid climate and brilliant sunny days common to this part of the province consistently serve up ideal conditions for exceptional golf. You are also invited to play our 9-hole mid-length
Pinnacle Course
.
Quick Links:
(more information is available, please refer
to the navigation options on the left)

Download:
(PDF Documents, Acrobat Reader
required to view)

fb.com/gallagherscanyon
Framed by forested mountains and rocky bluffs beneath clear blue northern skies, Gallagher's Canyon offers the quintessential Okanagan golf experience: rugged yet refined. Miles of orchards and vineyards punctuate the surrounding hills that rise from nearby Lake Okanagan. Gallagher's peerless golf facility encompasses the championship Canyon Course as well as the distinctively charming nine-hole Pinnacle Course, which will challenge masters and apprentices alike.
After golf, visualize your approach to our well-appointed clubhouse, where our chef tees up a memorable dining experience using the famously fresh local fruits and vegetables of the Okanagan Valley. Or head over to our unrivaled
GBC Golf Academy at Gallagher's Canyon
, where dedicated CPGA instructors offer their own menu of ways to improve your game.
Discover why SCORE Golf Magazine ranks Gallagher's Canyon among the top 50 courses in Canada.