Take Out Special: Family Combos for 4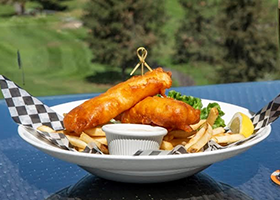 Four Family Combos to choose from at Table Nineteen Olympic View
Fish & Chips for the Family $86
Four [4] beer battered halibut; hand cut fries, coleslaw, tartar sauce
Burgers for the Family $74
Four [4] burgers, your choice of either the deluxe burger or crispy chicken bacon burger; hand cut fries or caesar salad (vegetarian option: substitute black bean veggie patty)
Pizza for the Family $72
Four [4] pizzas, your choice of the italian, margherita or pesto prawn; all natural house made crust
Wings for the Family $60
Your choice of four [4] sets of wings from the following list of flavours: buffalo, honey garlic, sweet chili or montreal spice; served with ranch dip and crudites
BONUS: All take-out combos packs include a 4-pack of pop: your choice of Pepsi, Diet Pepsi, Ice Tea or 7-UP.
How to Order:
Take-out at Table Nineteen is available during restaurant hours, contact (250) 474-3673 (press 3) to place your order.
Available Daily starting at 11:00am until last food order at 6:30pm, with pick up by 7:00pm.
All prices are subject to applicable taxes. Contact Table Nineteen for additional details. Take-Out offerings and hours are subject to change.
Back to Special Offers