Table Nineteen: Victoria
Restaurant, Bar and Patio at Olympic View - Open Year-Round
The menu at Table Nineteen Victoria is created by the talented team led by executive chef Cooper Green, collaborating on the culinary vision with GolfBC's corporate chef, Eric Gilchrist. The cuisine is meant to excite and intrigue, and features thoughtfully selected, locally available and ethically sourced ingredients with clever house-made twists.
Our Menus
Breakfast-to-go, available at the Refreshment Stand (or during the fall/winter in the Golf Shop) from 9-11am; offers our popular breakfast sandwich 'Late to the Tee' as well as a selection of NEW options!
Featured Offers
Wedding? Meeting? Banquet? Birthday? Graduation? Anniversary?
Planning a party or a special event? Our Event Planners are happy to help! Please contact us for more information on group events.
»more information
Going Green - We are a "BC Green Business"!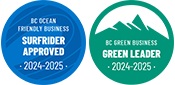 We are proud to have attained the ultimate "
GREEN LEADER
" certification from
BC Green Business
. Some of our efforts to date include composting, recycling, water and electricity conservation, community volunteering and installing a bicycle rack to encourage more guests and team to ride their bikes. We also received the Surfrider "
Ocean Friendly Business
" certification, for implementing ways to reduce our environmental impact.
Hours & Information
OPEN DAILY: 11am - 9pm
Reservations: (250) 474-3673 - press 3 or online