Forester's at Olympic View
Unwind and savour the delights of our Restaurant, Bar and Patio
COVID-19 Update: Olympic View Golf Club and Restaurant is CLOSED until further notice.
Forester's is the perfect location for a relaxing meal with friends and family, not just for golfers unwinding after a day on the links. Our menu of clubhouse classics and contemporary West Coast cuisine has something to please everyone. Enjoy the peace of the water fountain and views of the Olympic Mountains in our restaurant, watch your favorite sports team play on 1 of 3 big screen TVs at the bar, or relax on our recently renovated wrap-around
patio
, and catch all the action of the 18th green.
View our Menus
Happy Hour (Suspended until further notice)
$5 drink specials from 3-5pm every Monday to Friday:
House Wine
Olympic Lager Draught Beer
Single Well Brand Highballs
Wedding? Meeting? Banquet? Birthday? Graduation? Anniversary?
Planning a party or a special event?
Let our Event Planners help you create the ultimate celebration for any occasion.
»more information
Going Green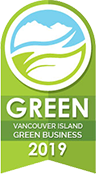 Forester's at Olympic View has attained the ultimate "GREEN" level certification from the Vancouver Island Green Business Certification. Some of our efforts to date include composting, recycling, water and electricity conservation, community volunteering and installing a bicycle rack to encourage more guests and team to ride their bikes. If you would like to know more about the program, please visit
www.vigbc.ca
.
Hours & Information
9am - 5pm, daily *CLOSED until further notice
*Please note; during clubhouse renovations, access will be via the back of the clubhouse. Wheelchair accessibility through the front ramp and patio.
Reservations: (250) 474-3673 ext 3