Course Conditions
Last update: Friday January 21, 7:35 am
Next update expected: Tomorrow at 7:30 am
Course Condition: 18 Holes Open for play.
First Tee Time: 8:00 am
The Multimat Hitting mats are mandatory for all shots from the fairway during play (scroll down for info)
Cart Status: Cart Path Only, No Medical carts.
Practice Facility: Open 7:30 am-4:30 pm Daily
2021/22 Multimat™ Program
For the 2021/22 winter golf season, Olympic View will be implementing the Multimat Program in order to protect the fairways from tough winter conditions and to ensure that each player is given a fair lie for each shot they hit. Multimat is a purpose designed, patented product that offers the following benefits in a user-friendly format:
Durable and flexible special blend of plastic which will not break when miss-hit, even when frozen to minus 20˚c.

Grippers on both sides of the mat restrict movement during shots.

Recessed areas prevent ball movement, even on the steepest slopes.

Double sided lightweight design with choice of 2 playing surfaces.
The use of the Multimat Program will lead to getting back to regular play as soon as the winter weather recedes, and will mean that playing conditions will be much better, far earlier in the season, giving everyone the best experience possible when playing Olympic View Golf Club. We thank everyone for their understanding and continued support.
Frequently Asked Questions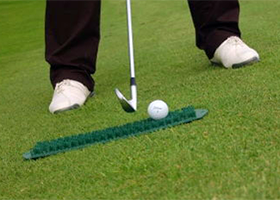 Why are we using the Multimat at Olympic View?
The purpose of the Multimat is to decrease the number of divots being produced over our fall/winter season. The result will be a marked improvement in our fairway conditioning as we enter Spring 2022.
Do I have to use the Multimat?
Yes, we are asking all members and public players to please use the Multimat during our winter season. We have seen increased volumes of play and we have now entered the time of year when grass does not germinate and heal itself.
Note: if you do not want to use the Multimat you MUST pick your ball up and move to the nearest point in the rough and continue playing from there.
Where do I use the Multimat?
The Multimat will be used on all fairways and fringe cut areas. You will use it for all clubs except a putter.
Is there a proper way to use the Multimat?
Do I use the Multimat for teeing off?
No, you do not have to use the Multimat for teeing off unless you want to. We will have temporary tee boxes on all Par 3's until Spring.
Do I use the Multimat in the rough, bunkers, cart path or penalty areas?
No, the Mulitmat does not need to be used in the rough (this is optional for those not competing in league sanctioned events). You cannot use the Multimat to improve your lie in a bunker, on a cart path or in a penalty area.
Are you allowed to post a score while using a Mulitmat?
Under the new World Handicap System (WHS) you can post a score while using the Multimat.
Note: All handicaps have been frozen as of November 15th in BC. Any scores posted in an inactive time period (Nov 15 – February 28) are for winter use and assessment only. Once the active season resumes your handicap will revert to your pre closure handicap. If you play in an active zone (Florida, Palm Springs etc.) you will need to post these, and they will count towards your regular handicap.
How do I get a Multimat?
Multimats can be picked up from the first tee at the beginning of you round. After you have finished playing please deposit the Multimat either in the bucket by the golf shop or 18th green. We will clean the mats and have them ready for your next round.
Can I keep the Multimat?
No; in order to ensure we have enough mats for everyone we are asking you to please pick up a Multimat on hole #1 and return the Multimat after your round to either the Golf shop or into the provided bucket by the 18th green.
Can I purchase a Multimat for my own use?
Yes. We have placed an additional order for Multimats from our supplier. The course mats will be green in colour and the mats for sale will be purple. Multimats will retail for $22.99 plus taxes.
We are very confident this program will have a positive result on our course conditioning during the winter and spring seasons. If you have any questions please feel free to ask our Golf Shop team or email us. We thank you for your support in making the program a success at Olympic View.
Multimat™ is a superior double sided pre tournament and winter personal fairway mat used by hundreds of golf venues worldwide and also prior to The Open Championships of 2003, 2006, 2011, 2014, 2019 & 2021, as well as the Irish Opens of 2012, 2015, 2017 & 2020.