Winter Game Packs now available!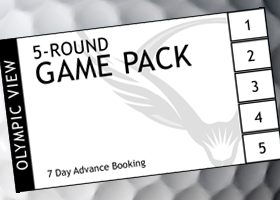 Pre-purchase 5 rounds, and SAVE at Olympic View!
Game Packs are a great deal if you plan to play 5 games before April 11, 2019!
Olympic View 5 Game Pack $209
5 Rounds at Olympic View
Game Guide:
Non-transferable
7 Day Advance Booking
Subject to applicable taxes
Limited quantities available
Valid until April 11, 2019
Remember, your Game Pack purchase is eligible for GolfBC Rewards points!
Back to Special Offers